Sarah A. McDaniel
207.591.5747
smcdaniel@douglasmcdaniel.com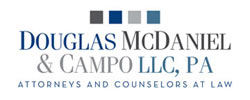 Sarah A. McDaniel
Douglas McDaniel & Campo LLC
90 Bridge Street, Suite 100
Westbrook, ME 04092
The information provided at this site is not, nor is it intended to be, legal advice. This web site has been prepared and made available for general information and marketing purposes in accordance with the Maine Rules of Professional Conduct, particularly Rules 7.1, 7.2, 7.2-A, and 7.4. Information provided on this web site does not create an attorney-client relationship between Maine Land Law LLC, PA, Sarah A. McDaniel and any reader of the web site. You should consult an attorney for individual advice regarding your particular situation.
In accordance with I.R.S. Circular 230 we advise you that any information or links provided in this website that may appear to be tax advice is not intended or written to be used, and cannot be used by any reviewer for the avoidance of penalties under federal tax laws.
These links are provided for informational purposes only, and should not be construed as legal advice. As of the date of this website (November 2010), Sarah A. McDaniel personally endorses the organizations that own these sites, but at no time has she or Maine Land Law LLC PA ever approved or accepted responsibility for the content of these linked web sites.