Sarah A. McDaniel
207.591.5747
smcdaniel@douglasmcdaniel.com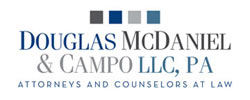 Sarah A. McDaniel
Douglas McDaniel & Campo LLC
90 Bridge Street, Suite 100
Westbrook, ME 04092
The information provided at this site is not, nor is it intended to be, legal advice. This web site has been prepared and made available for general information and marketing purposes in accordance with the Maine Rules of Professional Conduct, particularly Rules 7.1, 7.2, 7.2-A, and 7.4. Information provided on this web site does not create an attorney-client relationship between Maine Land Law LLC, PA, Sarah A. McDaniel and any reader of the web site. You should consult an attorney for individual advice regarding your particular situation.
In accordance with I.R.S. Circular 230 we advise you that any information or links provided in this website that may appear to be tax advice is not intended or written to be used, and cannot be used by any reviewer for the avoidance of penalties under federal tax laws.
Sarah embarked on a legal career as the natural progression of her love for wildlife and wild places. Sarah brings to her practice years of relevant experience working in the land conservation field before attending law school, and an interdisciplinary approach to problem solving that is particularly relevant to a land law practice.
Education
Juris Doctor, Harvard Law School, Cambridge MA (2003)
Harvard Environmental Law Review, 1999 - 2003
Master of Environmental Studies, Yale School of Forestry and Environmental Studies
New Haven CT (1995)
Bachelor of Arts in Human Ecology, College of the Atlantic, Bar Harbor ME (1993)
Background
During a college internship tracking a radio-tagged herd of mule deer, Sarah sighted her first bobcat, slept under the starry desert sky, and realized that she was not really cut out to be a field biologist. Her human ecology degree led her to study the nexus of policy and science in her graduate work, and yet it took no more than one D.C. summer lobbying Congress as part of her internship at Defenders of Wildlife for Sarah to realize that federal politics also was not her true calling.
Sarah returned to Maine and worked as a consultant on several projects for Maine Coast Heritage Trust, the Northern Forest Alliance, and the Natural Resources Council of Maine before accepting a position at The Trustees of Reservations – a statewide land trust in Massachusetts. Lobbying at the state capitol for open space legislation, working with landowners to develop and implement conservation plans, and coordinating coalitions of nonprofits in developing policy proposals led Sarah to realize that her personal strengths and interests would be most productively put in service through a career in the law.
But yield who will to their separation
My object in living is to unite
My avocation and my vocation
As my two eyes make one in sight.
Only where love and need are one,
And the work is play for mortal stakes,
Is the deed ever really done
For Heaven and the future's sakes.

from Two Tramps in Mud Time, by Robert Frost © 1934 New York, Spiral Press
Legal Experience & Recognition
Sarah centers her practice on real estate transactions and litigation with particular emphasis on land conservation.
Sarah represents clients in land use permitting proceedings (subdivision approval, site plan review, variance requests, rezoning applications, etc.) before municipal boards, state agencies and in subsequent judicial appeals to both the Superior Court and the Maine Supreme Judicial Court (the "Law Court"). In her cases, Sarah represents individuals and developers seeking permit approvals as well as individuals and neighborhood groups seeking to secure modifications to or denials of permit applications. Sarah also represents landowners in civil disputes involving property boundaries, right-of-ways, title insurance, recreational and conservation easement issues, and real estate closings. In addition to land law, Sarah also has represented individual, municipal and institutional clients in business litigation in state and federal court.
During law school, Sarah gained experience with legal clerkships at Trustees for Alaska (a nonprofit environmental law firm); the Northeast Region General Counsel's Office of the National Atmospheric and Oceanic Administration (NOAA); the Massachusetts Attorney General's Office, Public Integrity Division; and Hill & Barlow (a private law firm).
Sarah was selected for inclusion in the 2010, 2011, 2012 and 2013 New England Super Lawyers® list in the Rising Star category. Only five percent of lawyers in the state are selected for recognition by New England Super Lawyers following a rigorous, multi-phase selection process that includes nomination and evaluation by other attorneys in the state. Sarah is also honored with recognition as Katahdin Counsel in 2012, 2013, 2015 and 2016 for donating over 50 hours of legal services to low income individuals.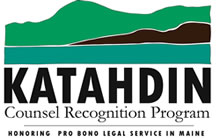 Bar Memberships, Professional Associations & Presentations
Sarah is admitted to practice in the State of Maine (2003), the United States District Court for the District of Maine (2003), and the United States Court of Appeals, First Circuit (2004).
She is a member of the American, Maine State, and Cumberland County Bar Associations, and past member of the Edward T. Gignoux Inn of Court (2007-2010). Sarah has served on the board of trustees of the College of the Atlantic from 2004 – 2015 and currently sits as vice-Chair on the Cumberland County Board of Assessment Review.
Sarah is a frequent presenter and panelist on legal topics relating to land law both through Continuing Legal Education seminars for attorneys and for non-attorney landowner audiences. She has presented at the Maine Land Trust Conference multiple times between 2010 and 2017 including talks on "Rights and Responsibilities of Owning Land," "A Step-by-Step Guide to Land Acquisition", and "Stewardship of Land Boundaries and Ownership Rights," "Managing Access and Right of Way Issues," and "Basics of Conservation Easements". She presents continuing legal education seminars for attorneys through the National Business Institute and Half Moon Education including topics such as "Ethics and Land Disputes," "Title Law Update," "Understanding Easements", "Litigating Disputes over Easements and Restrictive Covenants," "Identifying, Classifying and Locating Easements," "Avoiding, Identifying and Resolving Ethical Issues in Land Transactions and Disputes". 2006 Society for Human Ecology conference ("Integrating a Human Ecological Perspective in the Practice of Law").
In 2016, Sarah authored a chapter on "Private Access Rights" in A Practical Guide to Land Use in Maine, edited by Matthew D. Manahan, published by MCLE / NE, 2016. In 2012, the Maine Land Trust Network requested and published "Access Issues for Land Trusts" available online at: http://www.mltn.org/homenews/2012/03/access_issues_for_land_trusts.html.
Outside of her legal expertise, Sarah's undergraduate senior thesis Terrestrial Mammal Survey of Isle Au Haut was published in the Maine Naturalist, 1(3): 161-168 (1993) and she contributed a personal narrative to a symposium on living organ donation that was analyzed with other narratives and published in the Journal of Narrative Inquiry in Bioethics, volume 2, number 1 (Spring 2012).
Professional Philosophy
Sarah understands the importance of the landscape in her clients' lives. Whether representing developers who are trying to realize the economic potential of their land, or individuals, families or organizations trying to preserve the non-cash values of their neighborhood landscapes, Sarah approaches her legal practice with an ear for her client's interests and compassion for the stress that litigation places on the layman. Sarah's approach to the practice of law is to focus on her role as counselor, taking into account her client's needs, wants, and rights to reassess the nature of the "problem" and then determine and carry out effective strategies to achieve her client's desired results on the ground.
Although litigation is, by definition, an adversarial process, Sarah fortifies her arsenal of legal skills with respect for adverse parties and opposing counsel. Civility and compassion are necessary for the efficient resolution of legal disputes. Sarah's vigorous advocacy on behalf of her clients is strengthened by her reputation in the Maine bar for honesty and fair dealing.
Business Philosophy
Sarah has four principle aspirations for her practice:
Provide superior quality legal representation to all her clients.
Promote justice, fairness and morality in the legal profession.
Contribute to the local community by patronizing local businesses and giving back to local and legal charitable organizations.
Continue professional self-development to ensure a continued ability to meet the first three aspirations.
Sarah provides free or reduced-rate legal services to charities and to low income persons commensurate with the public interest aspirations recommended for attorneys by Rule 6.1 of the Maine Rules of Professional Conduct. She is proud to join the inaugural class of 2012 Katahdin Counsel, recognized for donating over 50 hours of legal services annually to low income clients. In addition, inspired by Ben & Jerry's "1% for Peace" and Oakhurst Dairy's "10% for Kids & the Environment," Sarah invests a meaningful proportion of her annual net profits with nonprofit organizations working in the areas of: (1) indigent and environmental legal services, (2) gender equity, and (3) education and youth programs.
Sarah always provides a free initial half-hour telephone consultation to potential clients. Sarah's hourly rate reflects her years of experience and professional background and incorporates routine administrative costs. Cash disbursements such as court filing fees and registry charges are billed to the client and significant vendor invoices, such as expert witness fees, will be forwarded for your direct payment. . Additionally, Sarah is open to considering alternative payment arrangements, such as flat-rate fee and flat fee with contingencies, on a case-by-case basis when doing so poses no detriment to the quality of the legal services provided.
Sarah patronizes local services and business whenever doing so is relatively financially competitive and will not reduce the quality of the legal services provided. Sarah aims to minimize her environmental footprint by employing energy-saving measures such as electronic filing, recycling, and low-energy equipment whenever doing so will not impair her ability to provide superior legal representation.
Personal
Sarah lives in Gorham with her husband, teenage son, and several rescued pets. In her free time, she enjoys hiking with her dog on the conservation properties that she has helped to protect.
In October 2008, Sarah donated her left kidney to a stranger through the New England Program for Paired Kidney Exchange to enable her mother to receive a deceased donor kidney promptly. She is a supporter of regular blood donation and living organ donation.