Sarah A. McDaniel
207.591.5747
smcdaniel@douglasmcdaniel.com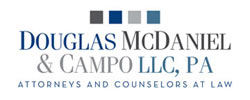 Sarah A. McDaniel
Douglas McDaniel & Campo LLC
90 Bridge Street, Suite 100
Westbrook, ME 04092
The information provided at this site is not, nor is it intended to be, legal advice. This web site has been prepared and made available for general information and marketing purposes in accordance with the Maine Rules of Professional Conduct, particularly Rules 7.1, 7.2, 7.2-A, and 7.4. Information provided on this web site does not create an attorney-client relationship between Maine Land Law LLC, PA, Sarah A. McDaniel and any reader of the web site. You should consult an attorney for individual advice regarding your particular situation.
In accordance with I.R.S. Circular 230 we advise you that any information or links provided in this website that may appear to be tax advice is not intended or written to be used, and cannot be used by any reviewer for the avoidance of penalties under federal tax laws.
Landowners in Maine face a wide variety of challenges and opportunities for managing their land. After listening to your concerns and assessing the legally relevant facts at play, Sarah will help you identify your personal priorities for the land and will design a legal strategy to achieve your goals.
Land Use, Zoning, & Municipal Law
Regulatory controls over the use and development of land have expanded significantly in recent decades. At the municipal level, permits must be obtained before buildings can be used, constructed or occupied, before ancillary services (such as roads, septic, water, and electric) can be installed, and, in many instances, before land can be subdivided and lots conveyed. Across the state, code enforcement officers, planning boards and zoning boards of appeals are kept busy reviewing applications for building permits, septic system approvals, change of use permits, undue hardship or practical difficulty variance appeals, conditional use and special exception applications, subdivision applications, and rezoning petitions. If a development is large enough, impacts certain natural resources, or is in the unorganized territories, additional permits from the Maine Department of Environmental Protection, Maine Department of Health & Human Services, Maine Land Use Regulation Commission, or United States Army Corps of Engineers may be required.
For the developer, this maze of regulatory agencies presents compliance issues and poses hurdles to obtaining a return on investment. For the neighbor, these hurdles pose opportunities to reduce the negative impacts of proposed development or prohibit it in certain locations. Sarah will guide you through the process and implement a strategy to achieve your desired outcome.
Land use issues are not always instigated by new developments – for example, the Department of Transportation or another government agency may be taking your property by eminent domain or inverse condemnation, the municipal assessor may have unfairly assessed your land or improperly placed a tax lien on it, or the code enforcement officer may have accused you of violating the land use regulations.
Sarah has assisted clients in obtaining variances and subdivision approvals; has helped concerned neighbors prevent illegal subdivisions and participate meaningfully in rezoning proceedings; and has helped defend landowners from municipal enforcement of land use regulations and the exercise of eminent domain.
In addition to representing clients before municipal planning and zoning boards, Sarah can represent municipalities on these same land use, zoning and ordinance amendment issues. Sarah has helped represent a municipal client in proceedings before the Board of Environmental Protection and in consideration of abatement requests by a corporate landowner.
Boundary and Easement Litigation
Land ownership is steeped in the sweat of our ancestors and holds the promise for our future, and so one's relationship to the land is often personal and emotional. When someone challenges your ownership of land – asserting ownership of areas long believed to be your own, or blocking access that you have always enjoyed – it can be as devastating as a threat to your own family. The laws governing land ownership and deed construction can be arcane and often seem to defy common sense sense – leaving many more "loopholes" than author Ruth Moore comprehended in her poem "To Have But Not to Hold". Interpreting the deeds and plans of record – many times going back to the 1800s or earlier – is an important starting point to understand a boundary or easement dispute, but evidence of historical use from aerial photographs, newspaper articles, landscape features and family journals can also be critical. Sarah is passionate about investigating her client's land ownership to determine whether rights have arisen by implication, been acquired or lost by adverse possession or prescription, or remain in tact.
Sarah has defended clients against claims of adverse possession and prescriptive easement, and helped clients protect the location and scope of their right-of-ways and other easements.
To Have But Not to Hold
This is a copy of the first deed,
Written two hundred years ago,
In the graceful and beautiful handwriting of that time.
It is heavy with the language of the law,
But leaves no loopholes,
And it speaks for itself now
As if a single bell-note, struck so long ago,
Had sounded through the centuries,
Unchanged. --Ruth Moore
(Believed to be first published in The Tired Apple Tree, collection of poems first published in 1990, currently published by Blackberry Books, Brunswick ME.)
Real Estate Transactions & Land Conservation
Whether you are selling your land to a third-party or gifting it to a family member or charity, Sarah can help you convey, develop, and protect your real estate investments. Sarah negotiates and drafts simple or complex real estate purchase and sale agreements and the documents necessary to close the transaction, including warranty and quitclaim deeds, rights of first refusal, options to purchase, and rights-of-way for access and utilities.
Passing family camps and cottages on to the next generation often poses conflicts between siblings and cousins that can be reduced with thoughtful foresight. Sarah can advise families about the various mechanisms of ownership and can establish the necessary joint tenancies, limited liability companies or family trusts suitable to facilitate cooperative use of family real estate. Sarah can also assist family members who have inherited property with others in resolving disputes about use and value.
If you have specific goals for how your property can – or cannot – be used in the future, even after you no longer own it, Sarah can work with you to design the deed restrictions and covenants necessary to carry out your intentions. This can include drafting and conveying conservation easements, view easements, historic preservation easements, trail easements, and the like, or including specific covenants in the language of your deed or will. While Sarah will not prepare complex estate plans, she will work cooperatively with your advisors to ensure that provisions in your estate plan regarding your land effectuate your true intent for the property.
Sarah has helped clients negotiate and consummate complex land purchase and conservation transactions, including the acquisition of nearly 40,000 acres of working forestland in Piscataquis County and conveyance of multiple conservation, trail and agricultural preservation easements on lands throughout Maine .
General Civil Practice
In addition to land law, Sarah also represents individual and institutional clients in civil litigation in state and federal court. Sarah's general litigation experience includes substantive areas of property taxation, admiralty, eminent domain, corporations law, and contracts. Notable federal court litigation Sarah has worked on includes securing the arrest, foreclosure and judicial auction of the M/V Shamrock cargo carrier on behalf of its mortgage holder, and securing an unprecedented liability finding against a public company for shareholder oppression.
Sarah can provide routine legal assistance if you need basic legal documents, such as a power of attorney, and may be able to help in other more substantive matters, such as forming business entities (corporations, nonprofits, partnerships, and LLCs), and filing for tax-exempt status for nonprofit corporations. If Sarah is not able competently and efficiently to provide the services you require, she will recommend one or more attorneys who can help you.
Administrative & Judicial Appeals
If a municipal or state board, official or trial court has made a decision that adversely impacts your rights, you may have an opportunity to appeal. Sarah can help you determine appeal deadlines and represent you in administrative or judicial appeals.
Sarah routinely appears before municipal boards of zoning appeals and has represented clients in appeals before many state agencies, including the Board of Plumbing Examiners, Board of Environmental Protection and State Board of Property Tax Review.
Sarah has conducted numerous Rule 80B and Rule 80C appeals to the Superior Courts challenging decisions of municipal and state agencies. She has appealed several property cases to the Maine Supreme Judicial Court (the "Law Court"), including Friends of Congress Square Park v. City of Portland, 2014 ME 63, Bodack v. Town of Ogunquit, 2006 ME 127, 909 A.2d 620 and Rangeley Crossroads Coalition v. Land Use Regulation Commission, 2008 ME 115, 955 A.2d 223. Sarah is also admitted to appear before the United States First Circuit Court of Appeals.